Utrecht, with a population of about 350,000, is the fourth largest city in the Netherlands. It is centrally located, very lively and offers all the advantages of a large city. Utrecht is a very popular place to live, work and study, and as a result, accommodation is in high demand.
About the rooms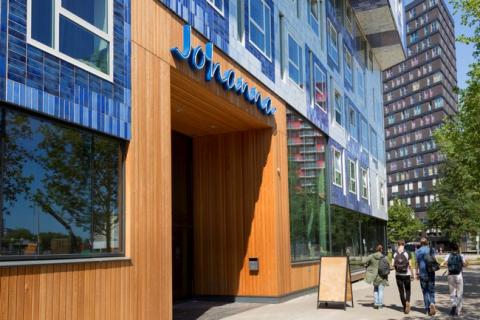 The Utrecht Summer School offers housing for its students. If you make use of this offer you will be housed in one of the student residences or in rare cases in a hotel. The student residences are located throughout the city, but can mainly be found on the Utrecht Science Park.
All accommodations are situated within easily accessible distances from the various educational institutions located in Utrecht (in general not more than 30 minutes by public transport). The accommodations are in the city centre, the Utrecht Science Park (Uithof), or in the suburbs of Utrecht. You should count on spending approximately € 3-5 per day on public transport travelling from your accommodation to your course location.
The student residences are fully furnished and include crockery, cutlery, cooking utensils, cleaning materials and bedding. Internet is available via wifi. The rooms are single rooms with a shared kitchen and shared bathroom.
The rooms in hotels are single rooms and are equipped with: shower, toilet, television and wifi.
Because the housing option consists of student residences they are therefore not a hotel-quality accommodation. If you prefer to stay in a different type of accommodation, please make use of one of the many hotels or Bed & Breakfasts in and around Utrecht. If you prefer to stay in a hotel, see: hotel options.
Meals
Most of the student cafeterias are closed during the summer. However, in your residence kitchen you will find everything you need to cook a nice meal and there is enough space to store some groceries. You should count on spending approximately € 15-20 per day on food (three meals, snacks and coffee/tea or other refreshments).
The hotel rooms do not have a kitchen.
Housing procedure
You will be assigned a room by the Utrecht Summer School staff. Utrecht Summer School generally tries to house students from the same course in the same accommodation. However, students enrolled in different courses might also be housed together in the same building, which gives you the great opportunity to meet international students from other disciplines.
There are no standard combinations of specific courses and student accommodations. The housing of students of each course depends on the duration of the course and its number of participants. You will not know which residence you will be staying in, until the day of your arrival. When you arrive you will pick up your key and receive all the necessary information about your accommodation and how it can be reached.
Check in and check out
Generally, housing is provided from the weekend before the course starts, until 10:00h on the last Friday of the course. If your course ends on a Thursday, your lodging is still available until Friday. It is not possible to stay longer in the accommodation. If you wish to stay longer, you will need to make your own arrangements. You can stay in your accommodation during the weekend(s) in between courses, if the courses you are following take place during successive weeks.
You can pick up your room key from the Utrecht Summer School office upon arrival, when you will also receive further instructions about your stay. The Utrecht Summer School office is located at Janskerkhof 30, right in the city centre of Utrecht. The office is open on Saturdays and Sundays from 12:00h until 18:00h. After you have received your key, you can proceed directly to your accommodation.