Utrecht is the fourth largest city in the Netherlands. It is centrally located, lively and has a lot to offer to its residents. Since Utrecht is a very popular place to live and study, the availability of student housing is very limited. During the summer, the Utrecht Summer School offers its participants the dorms that are occupied by international students throughout the academic year. Because of this, the housing provided is affordable, but very basic. Student rooms are not hotel rooms. It's therefor also not possible to bring family or friends. On this page, you can find all of the information needed to decide whether the USS housing is the best option for you.
USS
How does it work?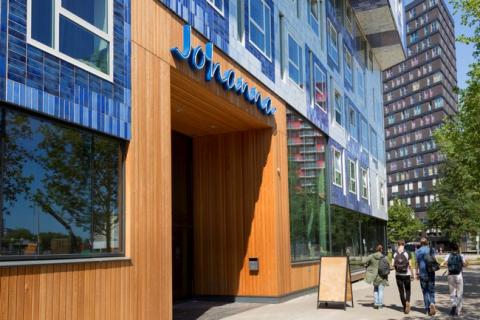 The housing offered by the Utrecht Summer School costs €200,- per week. You can only stay in the housing for the duration of your course(s). All accommodations are student residences and they are located throughout the city, but can mainly be found in the Utrecht Science Park. You will have your own bedroom and share the kitchen and bathroom with other students. (Will you join one of our courses abroad? Please make sure to check this page).
If you decide to make use of our student units, you will be assigned a room by the Utrecht Summer School staff. You will not know which residence you will be staying in, until the day of your arrival. When you arrive you can pick up your key and receive all the necessary information about your accommodation and how it can be reached.
USS
Key Pick-Up & Check-in/Check-out
You can pick up your room key from the Utrecht Summer School office upon arrival, when you will also receive further instructions about your stay.
In the first week of the 2023 Summer School the arrival date (& only key pick-up date) is Sunday 2 July. This is the only weekend you are not able to pick up your key on Saturday as well (July1).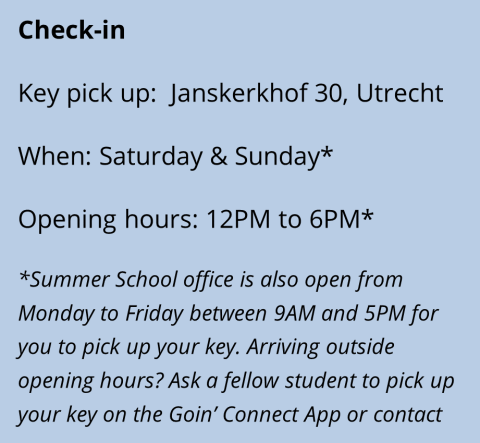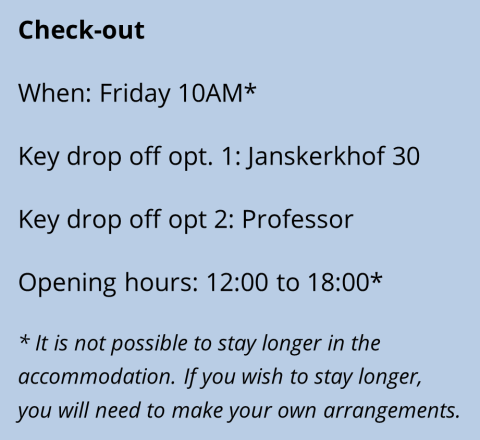 You will have to leave your dormitory on the last Friday of your course before 10 am. More information can be found in the Pre-departure Document that you can download from your account after your payment has been processed by us.
USS
What is included in the rooms?
When you arrive at our office you will receive bed linen. This is optional. You are strongly encouraged to bring your own sheets as a sustainable option.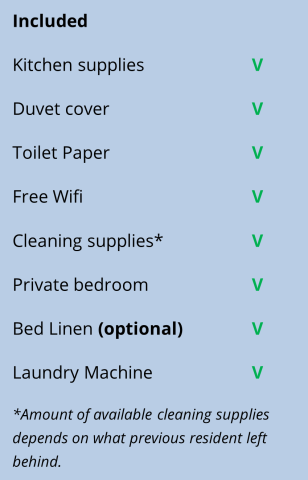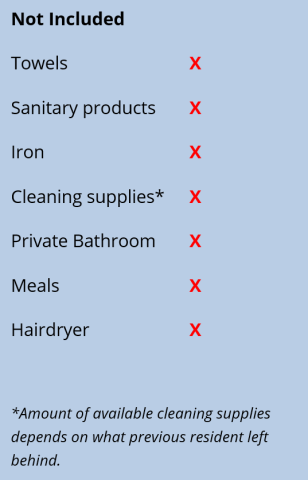 Toilet paper is present for the arrival of the first Summer School residents. Afterwards it's your own responsibility to purchase this.
USS
Additional Expenses
There are some additional expenses that you need to keep in mind whilst planning your stay in Utrecht.
Meals: they are not included in the housing. You will be able to store groceries and cook for yourself. Still, food in the Netherlands can be quite expensive and you should count on spending approximately € 15-20 per day on food (three meals, snacks and coffee/tea or other refreshments)
Travel costs: All accommodations are situated within easily accessible distances from the various educational institutions located in Utrecht (in general not more than 30 minutes by public transport). The accommodations are in the city centre, the Utrecht Science Park (Uithof), or in the suburbs of Utrecht. You should count on spending approximately € 4-7 per day on public transport travelling from your accommodation to your course location.
USS
Hotel
Keep in mind that we offer student housing. Do not expect hotel quality. Feel free to make your own arrangements if you prefer to stay at a hotel. We have listed a few suggestions on this page.