Period
05 July 2021
-
09 July 2021
Course fee
Course Level
Advanced Master

After successful previous editions of the Global Child Health summer school and the Reproductive and Maternal Health summer school, both courses will join together and return in 2021 as the Global Maternal, Newborn and Child Health online summer school.
This online course will provide an overview of Maternal, Newborn and Child health care, globally. Guest lecturers will provide interactive sessions, alternated by small group work, to address the following learning objectives: 
 Discuss key challenges in global maternal, newborn and child health (MNCH).
 Provide a comprehensive overview of strategies to improve MNCH outcomes.
 Discuss the role of the Sustainable Development Goals in achieving MNCH outcomes.
 Collaborate effectively within international group of participants and faculty.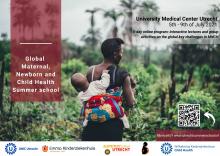 Download the day-to-day programme (PDF)
Course director
Prof. Louis Bont, Prof. Kitty Bloemenkamp, Prof. Michaël Boele van Hensbroek, Dr Joyce Browne and Dr Marcus Rijken
Lecturers
Lectures will include experts from the organizing institutions (UMC Utrecht, Amsterdam Centre for Global Child Health, Working party for International Safe Motherhood and Reproductive Health) as well as other institutions. The detailed program and list of lectures will become available in Spring 2021. 
Target audience
This course is open to all with an interest in global maternal, newborn and child health, including:
Master's level students (Medical/global health/public health/biomedical sciences)
Medical doctors, nurses, midwives
(PhD) researchers
Policy makers
Aim of the course
The aim of the course is to give the participant a thorough introduction in global maternal, newborn and child health health, discuss obstacles and possible solutions to improve health at a global and local scale within an international environment.
Study load
Fulltime, one week online. 
Costs
Included:
Fee covers
Course + course materials
Extra information about the fee
There is a discount for medical students and LMIC residents (total 250 euro). This discount will be applied after acceptance to the course.
There is a one-day participation fee of €100 euros. Please indicate in the application form if you are interested in this option and for which day. 
If you combine this Summer School with 'Global Surgery and OBGYN' or ' Challenges in Global Health: NCDs', there is an additional discount of €30 per course. Please mention this to us, so we can apply the discount.
Application

For this course you are required to upload the following documents when applying:
More information
Recommended combinations
Registration
Application deadline:
Registration deadline
01 July 2021