Organising institution
HU University of Applied Sciences Utrecht - Business and Management
Period
24 July 2023
-
28 July 2023
Course fee (excl. housing)

Globalization, polarisation, and a range of issues that affect people and nature around the globe, make a strong sense of global citizenship more important than ever before. We are living an age in which technology has profoundly influenced the ways we think, feel, act, communicate and collaborate; this raises all kind of questions, reveals needs and requires skills for understanding ourselves and others in this constantly changing world.
The so-called 21st Century Skills are considered the most important skills to succeed in today's workplace, since they can be universally applied to enhance ways of thinking, learning, working and living in the world. These skills are: critical thinking/reasoning, creativity/creative thinking, problem solving, metacognition, collaboration, communication and global citizenship
You should think of this course  as a five-days voyage towards mastering these 21st century skills for global citizenship.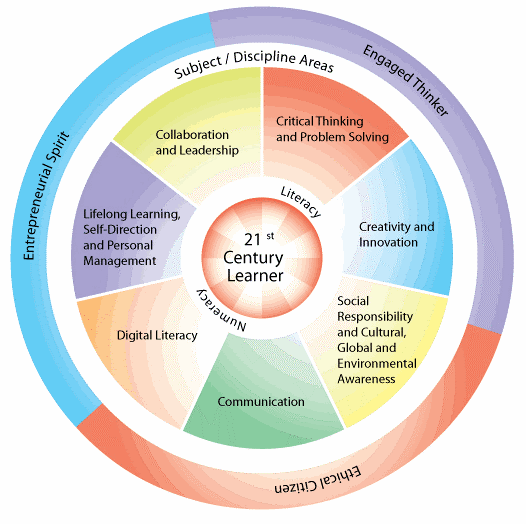 In this highly interactive course, discovering, experiencing, and sharing are the key activities.
On day 1 and 2, you will be introduced to the Four-Mode Perspective. This universal principle entails that every challenge can be met, and that every message can be brought in four different ways. Your skillfulness and effectivity in communicating with others will quadruple overnight!
On days 3, 4 and 5 you will submerge yourself into eight other 21st century skills: Collaboration, Socio-cultural awareness, Self-regulation, Critical thinking, Media literacy, Creativity, Problem-solving skills and Entrepreneurship. All in a global perspective, and broadening your scope as a global citizen.
Every exercise in the course is practical, fun to do, and highly educational. The course is a once-in-a-lifetime experience, bringing you insights and new capabilities that will be beneficial to you for the rest of your life!
Your discoveries and learning won't end on the last day of the course. We will invite you and your fellow students to form a Circle of Understanding, and each of you will be offered 25 real-life challenges over a period of 100 more days to further grow both personally and professionally. During that time, your phone will be your classroom and you will be able to share your experiences with your peers on a private online platform. This highly effective way of micro-learning is currently being adopted by universities around the world to support students (and staff) in developing global citizenship and 21st-century skills.
This course is offered in collaboration with Ewald Theunisse, co-founder of the Academy of Understanding.
Day to day Boost your 21st Century Skills - Master Global Citizenship.pdf
Course director
Jelly J. Offereins MA
Lecturers
Target audience
We are looking for students in any discipline who believe that human understanding makes all the difference and  want to train themselves in compassionate leadership, communicating and collaborating. The course is open to all students from different fields of study with an interest in becoming a better person and professional.
Aim of the course
This intensive programme aims to enrich your personal and professional life in a variety of ways. Not only will the nine skills expand your capabilities, they will also broaden your perspective on life and how to lead it with more resilience and compassion;

Students will gain insight in possible ways of looking, thinking, doing, listening, and communicating and will become aware of their own ways, and those of others;

Students will strengthen their so called 21st century skills: Socio-cultural competencies, Communication skills, Collaboration, Critical thinking, Self-regulation, Media literacy, Entrepreneurship, Problem-solving skills, and Creativity;

Students will proceed in mastering Global Citizenship
The didactical approach of this course may be quite different than what you would expect from a traditional module. Together with lecturers and professional coaches from the work field we will guide you through a meaningful and valuable experience.
The sessions are highly interactive, challenging and fun; you will be invited to experiment, experience, reflect and discuss. You will learn by doing and explore different perspectives, while in the meantime being offered important professional and personal insights. The course will help you integrate your existing knowledge and skills with new insights, step out of your comfort zone and develop the mind-set to improve communication and compassionate collaboration.. During this learning experience, you will receive intensive coaching.
As a follow-up on the course, you will receive 25 real-life challenges over a period of 100; these will enable you to continue your learning process in a practical and fun way.
This part is also part of the 3 weeks' track The Essence of Business Models & International Business which includes a Field trip to Milan, Italy (B48).
Study load
50 hrs. of training, workshops, coaching, assignments.
Participants will be graded based on their performance during the workshops and on the assignments, assessed by means of participation,  handling feedback and a reflective report. Overall level of participation and cooperation within group settings will be taken into account.
Compulsory elements: Students must attend all learning activities (e.g. workshops, fieldwork) unless absence is certified.
Costs
Included:
Fee covers
Course + course materials
Extra information about the fee
The Student Fee applies to all students currently enrolled in a Bachelor, Master or PhD programme and to 'Fresh Alumni' of any of these programmes. If this applies to you and you therefore believe that you are eligible for the discounted student fee, please include this in your motivation when applying for this course.
Contact details
Registration
Application deadline:
Registration deadline
20 June 2023