Utrecht Summer School is pleased to welcome you as our guest this summer!

Soon, your new adventure will start. We hope to give you a great experience which will not only contribute to your academic knowledge, but also helps you meet interesting students from all over the world. This document contains useful information to plan your arrival and stay at Utrecht Summer School.* We advise you to read this document carefully.
*If you will join one of our hybrid courses and you decide to join the online course, please send an e-mail to the Utrecht Summer School office for an online pre-departure document.
We advise you to check this pre-departure information again the day before you leave or start the online course as we might make slight adjustments to the information. Your first course location will be included on top of this document and on the first page after the index +/- 6 weeks before the start of your course. We look forward to meeting you and hope you will have an unforgettable summer! If you have any further questions, please feel free to contact us.
Kind regards,
The Utrecht Summer School team

Contact details - Utrecht Summer School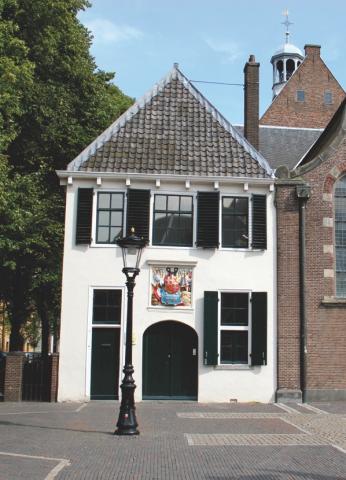 Visiting address
Janskerkhof 30
3512BN Utrecht
The Netherlands
Phone
+31 (0)30 253 4400
E-mail
Opening hours Utrecht Summer School – office (4 July - 26 August)
Monday to Friday: 9 am – 5pm
Every Saturday: 12 noon - 6 pm
Every Sunday: 12 noon - 6 pm
Are you arriving in Utrecht on 20 August 2022? Please pay special attention. Due to the Vuelta in Utrecht, the Utrecht Science Park might be less accessible, especially by car. For more information, please check this page. If you will collect the key at our office, we will inform you accordingly about the directions that day.
What to bring
When you travel to the Netherlands for your Summer course, please make sure to bring a:
Valid passport (an ID card is not valid unless you are an EU citizen)
A visa if necessary: information is presented on this page: Information from the Government of The Netherlands | Government.nl
Travel insurance which covers medical costs, liability, accidents and expatriation to your home country in case of emergencies. Please check this before your stay!
Cash money for your first meals, drinks and transportation (€ 100 should do). You can pay by card almost everywhere in the Netherlands.
A converter for European plugs: Electricity in The Netherlands is 230 Volts, alternating at 50 cycles per second. You will need to bring a voltage converter if you would like to use devices that do not accept 230 Volts at 50 Hertz.
Towels (not provided by Utrecht Summer school)
Check your Solis-ID: you will receive a Solis-ID approximately 14 days prior to your course. You can use this login for all kinds of facilities during the course, such as the library, WIFI and access to computer programmes possibly used during the course.
In case of emergency
In case of accidents or sudden illness requiring immediate action, call the general emergency number 112 (24 hours a day) or the Emergency Service at the hospital nearest to your home. For less urgent (non-medical) matters you call the police at +31 (0)900 8844. During day time you can ask your course coordinator for advice.
The General Practitioner administers first line, primary care. Patients cannot consult a hospital specialist without a required referral. Please note that international patients are required to pay in cash. The General Practitioner can be consulted after you have made an appointment by telephone or during their consulting hours. House calls (in Dutch: visite) are kept to a minimum as they are more expensive. You will need to pay cash, unless you have a European Health Insurance Card. If you are looking for a doctor, you can go to the General Practitioner Uithof. This practice is located in the Utrecht Science Park in the "Casa Confetti" building and in the city centre, Nobelstraat 2a, above 'Train More' General Practictioner City Centre They have online services; it is possible to make an appointment online
If you need medical assistance outside of your doctor's office hours, you can contact a Huisartsenpost. Please call: +31 (0)900-4501450. A group of GPs share weekend duty and take turns being on call.
For summer school-related issues, you can also call the Utrecht Summer School office at +31 (0)30 253 4400 (24/7), please use this number after 5 PM only in case of emergency!
Practical information; travel in The Netherlands
In case you will take a plane to the Netherlands, the nearest airport to Utrecht is Schiphol Airport. Rotterdam/The Hague and Eindhoven Airport are also good alternatives. Many of the low cost airlines fly into these airports. You can find out how to travel from these airports to Utrecht below.
Please keep in mind that buses and trains stop running from 10-11 PM onwards from Eindhoven or Rotterdam Airport to the train station. We therefore advise you to plan your journey in such a way that you arrive during the day. If you arrive late at night, you might have to travel by taxi instead of public transport.
The Utrecht Summer School is located in the centre of Utrecht, within walking distance of Utrecht Central Station. If you wish to take the bus, you can do so. Information is listed below.
Train
A very convenient way to get from one city to another in the Netherlands is by train. Dutch trains regularly serve most domestic destinations and are fast and comfortable. It is also the best way to travel from the ariport to Utrecht. On the train, be sure to keep a close watch on your belongings; train stations and the trains in and out of big cities (like those in and out of Amsterdam Centraal) are frequented by pickpockets and luggage thieves. Serious crime is rare in the Netherlands but opportunistic theft is a common problem for students, especially newly-arrived ones.
From Schiphol airport: Schiphol train station is situated directly below the airport. Via Schiphol Plaza you can walk straight to the departure or arrival hall and get on a direct train to Utrecht Central Station.
From Eindhoven airport: From the arrival hall at the airport, you can walk to the bus stop. Bus nr. 400 or 401 takes you from the airport to Eindhoven Central station, where you can get on a direct train to Utrecht Central Station.
From Rotterdam airport: From the arrival hall at the airport, you can walk to the bus stop. Bus nr. 33 takes you from the airport to Rotterdam Central station, where you can get on a direct train to Utrecht Central Station.
The national train company NS operates most train lines. On their webpage, you can find more information and plan your journey here. Intercity trains are faster than local trains referred to as "Stoptrein" or "Sprinter" in the Netherlands. When in doubt, you can always ask someone at the ticket office. Almost everyone in the Netherlands speaks English fairly well.
Bus
Buses are used for regional transport rather than for long distances, for which trains are more comfortable. Most destinations in Utrecht can be easily reached by bus. The main bus station can be found next to Utrecht Central Railway station. The public transport company (U-OV) has an information kiosk at the station, on "Jaarbeurszijde" only, where you can find the bus schedule and ticket information.
In case you would like to plan your trip or get information while you are travelling, you can call public transport information services at +31 (0)900 9292 or you can visit their webpage, or download the App: 9292.
Hop on to a bus at the central station from platform A if you wish to take the bus to our office. Take bus number 28 in the direction of the Science Park. The bus stop across the street from our office is called "Janskerkhof".
Taxi
If you plan on travelling by taxi, we recommend UTC, Tel. +31 (0)30 230 0400, www.utc.nl. Note that taxi services tend to be quite expensive in the Netherlands.
Bicycles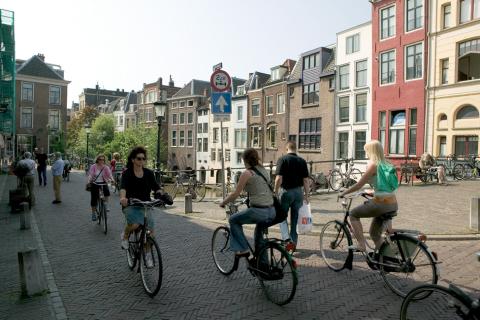 Practically everyone in the Netherlands owns a bike. Because of the flat landscape, a bicycle is an ideal means of transportation. Within the city it is by far the best and cheapest way to travel. Be sure to invest in a good lock as well, otherwise your bike may be stolen. Also always park your bike in a bicycle rack. If it is parked in areas where you are not allowed to park the municipality will take it away and you will have to go to their depot and pay a fine to receive it back. Never buy a (stolen) bike from someone on the street. This is illegal in the Netherlands. Almost everywhere in Utrecht are special bicycle lanes which makes cycling relatively safe. However, care must be taken as we in the Netherlands do not often take the bicycle for leisure purposes, we rather use it as a means of transport. If you want to cycle in the Netherlands (especially cities), make sure that you are capable of cycling.
How to pay for your travels
OV Chip card
With an OV Chip Card you can travel by public transport (bus/train/metro/tram/OV-bike) using one card. You use the card by checking in when you enter the bus and check out when you have reached your destination by swiping your card past the white panel at the entrance of the bus. You should also check-in and check-out when you travel by train using the machines. Failing to do so, might result in a fine. The card works like an e-purse: depending on the length of your trip, an amount will be deducted from the balance on your OV Chip Card.
Keep in mind the following while using the OV Chip Card:
You should always check in and check out. If you forget to check out, a standard amount of €20,- will be deducted from your balance.
The OV Chip Card is required if you would like to travel by metro and tram (only at buses, you can still purchase a 'normal' ticket at the bus driver and only by card).
You also have to check in and out when you transfer from one modality to another.
For €7.50, you can purchase the OV Chip Card at the information kiosk at the Utrecht Central Station bus depot or at train stations. After purchasing the card, you will have to top-up your balance using the yellow NS ticket machines in the main hall. You can top-up the credit on your card at train stations and in most buses. If you want to travel by train you will need at least € 20,- on your card to travel. When you leave you can go to the ticket desk at any station to retrieve your outstanding balance.
It is possible to buy a bus ticket at the bus driver (card only).
Facilities at the Utrecht Campus
Utrecht University, the HU University of Applied Sciences and HKU University of the Arts Utrecht are located all over the city of Utrecht. For all your questions, you can stop by the Utrecht Summer School office, which is located in the city centre, Janskerkhof 30.
Computer facilities & library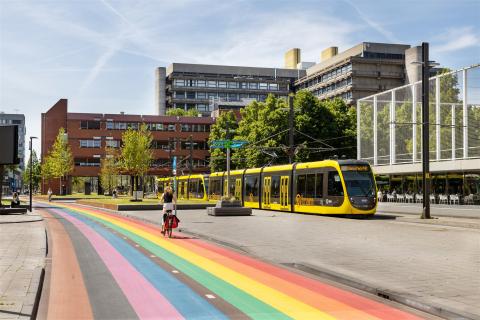 Each student will receive a computer account called Solis-ID. With this account you also have unlimited access to the extensive computer facilities at the University Library in the city centre and at the Utrecht Science Park. You will receive an e-mail with instructions on how to use the WiFi with your Solis ID before the start of your course. For students who booked accommodation: There is internet available via WiFi in your room. When you pick-up your key you will receive instructions how you can connect to this WiFi.
Meals
Meals are not included in the course fee. Student cafeterias at the Utrecht Science Park are mostly closed during summer, but the student rooms that we offer have a residence kitchen where you can find everything you need to cook a nice meal.
In the following months we will also start sharing our 'discover Utrecht' document, in which we share our most favourite places in Utrecht! This will be published on this page: https://utrechtsummerschool.nl/social_programme/discover_Utrecht_online
Utrecht Summer School - Social Programme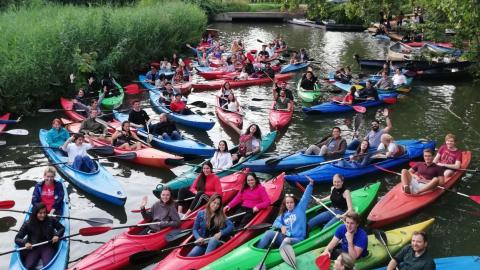 The Utrecht Summer School has its own Social Programme! The activities will provide the perfect setting for you to get to know your classmates better and to meet international students from other Summer School courses. From a scavenger hunt, pizza's in the park, a trip to the Dom tower, and most popular of all, night canoeing. You can buy tickets for the Social Programme via your personal account on our website.
On this page: https://utrechtsummerschool.nl/social_programme/discover_Utrecht_online you will find a link to all kinds of activities or places to visit while you are in the Netherlands. It will include tips from our own Summer School Team, plus advise how to get there. More information will be added towards the summer.
Get in touch with your fellow Summer School students!
Are you curious who will be your future classmates? Looking for like-minded students who are also goin' to the Utrecht Summer School? Via Goin' Connect you can find other students already before arrival!
Register here to see who will be your future classmates.
After registering using the link above, you can download the app for Android or Apple. Just click on login and you can meet and connect with your future classmates.
Any questions? Please reach out via the chat function of www.goinconnect.com!
Housing via the Utrecht Summer School
If you registered for a course with housing via the Utrecht Summer School, this information is applicable to you! During the course, you will be housed in one of the student residences. The student residences are located at the Utrecht Science Park, in easily accessible distances from the various educational institutions located in Utrecht. You should count on spending approximately €3-5 per day on public transport travelling from your accommodation to your course location. You could also bike to the city center which takes approximately 20 minutes.
The student residences are fully furnished and include crockery, cutlery, cooking utensils, cleaning materials and bedding. Internet is available via WiFi. The rooms are single rooms with a shared kitchen and shared bathroom. Take a look on this page, for more information: https://utrechtsummerschool.nl/housing/utrecht
Because the housing option consists of student residences, please note that they are therefore not a hotel-quality accommodation. You will have your own personal room.
Your Check-in and Check-out
Accommodation will be available from Saturday before the start of your course. You can pick up your key at our office, Janskerkhof 30, between 12:00 and 18:00 on Saturday and Sunday before the start of the course. You will have to leave your dormitory on the last Friday of your course before 10:00. In order to receive your keys, you will need to sign a form confirming that you will leave your room clean and complete upon leaving Utrecht
Please note: only if you can't collect your keys in the weekend, you can do so on Monday morning (first day of the course). Please contact your course coordinator if you are planning to arrive on Monday!
You shall have to leave your room on Friday morning. In case the course ends earlier, your lodging is still available until Friday morning. Please make sure that nothing of the inventory is missing when you leave. You can hand over your keys to your course leader. If you leave earlier you can leave the keys at our office. If we are closed you can leave your keys in the mailbox. The last Friday of the course, you can bring your luggage to your class. It is not possible to store your luggage at the Summer School office In case you would like to stay after the check-out date, you must arrange alternative accommodation yourself.
In case you arrive in Utrecht before the check-in date, or you are staying after the check-out date, you must arrange an alternative accommodation. You can book a hostel or hotel. We listed a few options on this page: https://utrechtsummerschool.nl/housing/hotel-accommodation. Please take a look or contact the hotel for availability and prices.
COVID-19 regulations
If you travel to the Netherlands, it is your own responsibility to be informed of the Dutch regulations. Updated information is presented on this page: https://www.government.nl/topics/coronavirus-covid-19/tackling-new-coronavirus-in-the-netherlands. If you are not able to travel to the Netherlands, please let us know as soon as possible.
As the Utrecht Summer School is part of Utrecht University, the same regulations apply. You will find all information on this page: https://www.uu.nl/en/information-coronavirus. Make sure to check this before your stay or travel. If you have any questions, please let us know: info@utrechtsummerschool.nl
We can't wait to meet you in Utrecht next summer! If you have any questions, please check the FAQ or contact us via our support page: https://utrechtsummerschool.nl/about/contact-us