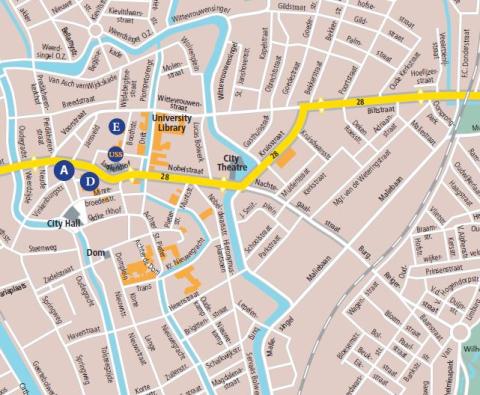 Do you want to have all facilities to yourself? Or are you travelling with your partner, who will not attend a course at the Utrecht Summer School? We recommend you book a room in a hotel in Utrecht. There are plenty of Hotels, Bed & Breakfasts, Hostels and Airbnb's available in Utrecht.
We have selected a few hotels for you, situated in the city centre, where you can book a single or double room at special rates as students attending the Utrecht Summer School during June, July and August. Please click on the map on the left, to determine which of the suggestions and locations suits your needs.
---
Leonardo Hotel Utrecht City Centre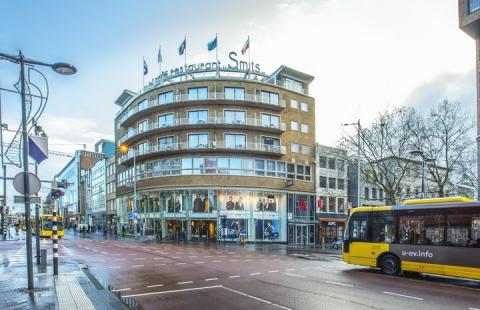 €€€
Leonardo Hotel Utrecht City Centre is located in the centre of the historic city of Utrecht, 300 meters from Utrecht Central Station and very close to the Utrecht Summer School office.
Very centrally located, it offers nice rooms, a lounge and endless options for dinner and drinks in the city centre. Prices vary throughout the summer, so please check out the Leonardo website for more information.
---
Hotel Mitland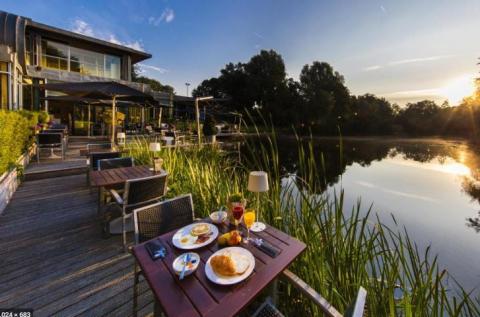 €€€
Situated on the outskirts of Utrecht at a five-minute drive from the city centre, Mitland Hotel Utrecht is located in a splendid park and offers a wonderful view of the old 'De Bilt fortress'. Guests can make use of the swimming pool, sauna, and fitness room free of charge. Students attending a course at the Utrecht Summer School can book a room at reduced rates.
For reservations and prices please visit the website 
You can fill in USS2023 via the website when you make a reservation for July or August 2023. You can choose for the Superior room or the Superior Lakeview room.
The room rates exclude breakfast but exclude a city-tax of 6%;
It is possible to cancel your booking free of charge up to 48 hours before arrival;
If you experience problems you can send an email to info@mitland.nl or cal +31-30-271 58 24.
---
Hotel Star Lodge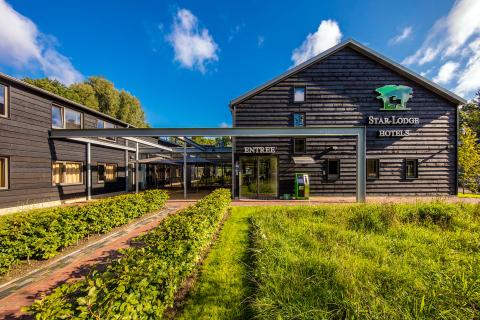 €€
Please check the availability, as the hotel is currently used for other purposes.
Star Lodge Hotels Utrecht is a three-star designer hotel, with 80 double/twin rooms and five single rooms. Located less than three km away from the historic city centre of Utrecht, you find the hotel located in the Voorveldsepolder Park, close to the Utrecht Science Park.
The facilities:
24/7 reception opened for all your questions
Check in time: 14:00, Check out time: 11:00
Breakfast is included on our official website
Self-service bar available
Parking available
At Star Lodge Hotels Utrecht there are four electric vehicle (EV) charging stations available and ready for use
Bike rental service
You can book your stay here at Star Lodge Hotels Utrecht!
---
StayOkay (Hostel)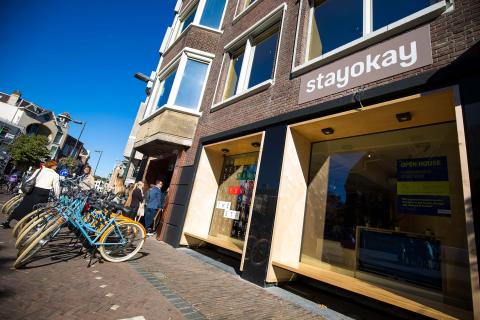 €
Stayokay Utrecht Centrum is in a prime location of the city. The hostel is super modern and has affordable shared and private rooms. Each room has its own shower and toilet. On the first floor of this hostel, you will find The 5th: This is the place to be for great food, beverages, work, study, or if you just want to chill. The StayOkay regularly organises awesome events and sustainable activities.
On the website, you'll also find the menu full of local, organic and sustainable foods and drinks. Such as local beers, organic sodas, vegan lunch and dinner options and zero-waste breakfast items.
You can book your stay at StayOkay Utrecht!
Send an e-mail to utrecht@stayokay.com or call +31 (0)30 75 01 830
---
Strowis (Hostel)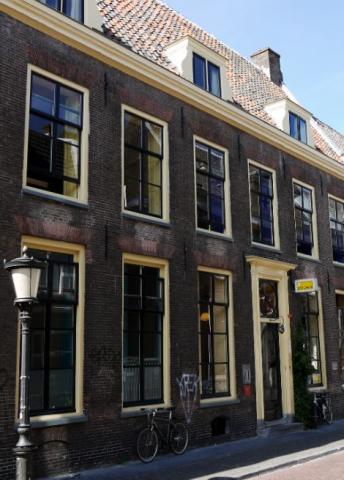 €
Looking for a pleasant and affordable place tot stay over in Utrecht? There is a low budget hostel situated in a quiet road in the old city centre. 'Strowis' is located in a listed 17th century building which still contains some of its original details such as chimney breasts and shutters, providing a warm atmosphere and a pleasant place to spend the night.
You can book your stay at Strowis! E-mail: info@strowis.nl