Organising institution
Utrecht University - Alliance of TU/e, WUR, UU and UMC Utrecht (EWUU)
Period
03 July 2023
-
07 July 2023
Course fee (excl. housing)
Course Level
Master or PhD

Developing your inner capacity to contribute to a sustainable future
In 2015, the Sustainable Development Goals developed a comprehensive plan for a sustainable world by 2030. The 17 goals cover a wide range of issues that involve people with different needs, values, and convictions. These goals are not easy to achieve, despite the rapid progress of technical and scientific developments. A culture change is necessary, aiming to develop the inner capacity to deal with our increasingly complex environment and challenges. This is where the Inner Development Goals (innerdevelopmentgoals.org) come in. The summer school will use these goals as guiding framework for your personal development towards a sustainable future.
In a combination of plenary and smaller group intervision sessions, we will take you on a journey through the Inner Development Goals and invite you to define your own path by "growing" an Inner Development Tree that ensures you to remain inspired and resilient in a world in transition. 
We will deep dive into the five building blocks of the Inner Development Goals, discussing what research tells us about inner development, inviting you to reflect on your skills and competences and handing tools to further develop yourself. You will be learning from experts in the field and from each other.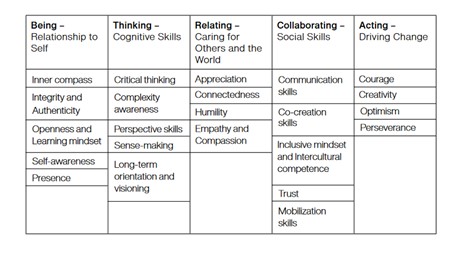 The course combines many elements, from lectures and discussions to group work and individual assignments: no day is the same. Each day we will dive into one of the building blocks of the Inner Development Goals. We will go into the scientific background of inner development and challenge you to apply these insights to yourself.   
Monday – Being: Relationship to self
Tuesday – Thinking: Cognitive Skills
Wednesday – Relating: Caring for other and the world 
Thursday – Collaborating: Social skills
Friday – Acting: Driving change 
At the end of each day, you work on applying the insights of that day to your own Inner Development Tree. 
Course director
s.g.uijl@uu.nl
Lecturers
This course is organised by the alliance between TUe, WUR, UU and UMCU (EWUU). These institutions collaborate across disciplines to tackle pressing social challenges and realise sustainable transitions to a better future. For more information see ewuu.nl. 
Anke de Vrieze 
Anke de Vrieze studied Social and Cultural Anthropology at the University of Amsterdam. In addition, she took professional training in bio-dynamic farming. From 2010 till 2015, she worked as an independent researcher and project coordinator on different projects related to urban agriculture and urban food strategies. Currently, she works as Knowledge and Learning Officer at the Centre for Unusual Collaborations (EWUU). 
Corinne Lamain 
Corinne Lamain is the director of the Centre for Unusual Collaborations (EWUU). She worked as senior policy adviser at WOTRO Science for Global Development (NWO) for a decade. She coordinated research programmes focused on conflicts over natural resources and climate change, security and rule of law as well as food and nutrition security. Corinne is also a PhD researcher in the field of Political Ecology, focusing on climate security discourses as part of climate action in the Eastern Himalayas. 
Esther Stiekema 
Esther Stiekema is the coordinator of the EWUU. She has a background in Cognitive Science and a PhD in the field of Philosophy of Mind, and more than 20 years' experience in higher education policy and management. 
Jurgen Ganzevles 
Jurgen Ganzevles holds a PhD in Science and Technology Studies (STS), on top of an education in engineering. For 15 years he has worked at the interface of science, society and policymaking as a researcher, advisor and manager. Currently he is the director of EWUU's Circular Society programme. His passion lies in putting science to work for a sustainable future. 
Sabine Uijl 
Sabine Uijl is strategic programme manager for EWUU education. She has a background in epidemiology and has worked in educational innovation and education management for 15 years. She is co-founder of the Dutch Higher Education hub in the Inner Development Goals community, and has a drive to integrate inner development and impact into university education. 
Target audience
You identify as an early career professional or a PhD student. We welcome people from all sectors and disciplines. 
Aim of the course
After following this course you:
Have acquired basic knowledge of the Inner Development Goals in relation to sustainable development 

Have reflected on your core values and strengths and weaknesses and identified key issues in your inner development (Being)  

Can employ different skills to make sense of the world as an interconnected whole (Thinking) 

Have developed crucial skills for relating and feeling connected to others in an appreciating and caring way (Relating) 

Have experimented with and reflected on collaborating with diverse stakeholders (Collaborating) 

Have developed a personal Inner Development Tree with actions to contribute to a sustainable world (Acting) 
Study load
Approximately 40 contact hours.
Costs
Included:
Fee covers
Course + course materials + lunch
Additional information
If you would like to make use of the Utrecht Summer School student accommodation, please make sure to check this page. You can check on or after Sunday 2 July 2023, after 12.00 (noon). More information regarding the check-in will be shared with you in the pre-departure document. This document will be available to all fully registered students, as of March 2023. 
Application

For this course you are required to upload the following documents when applying:
Contact details
Registration
Application deadline:
Registration deadline
26 May 2023