Organising institution
HU University of Applied Sciences Utrecht - Creative Business
Period
22 July 2024
-
26 July 2024
Course fee
Course Level
Advanced Bachelor

Authentic self-leadership is indispensable in today's rapidly evolving world, where personal integrity and effective decision-making are paramount. In this course, you will delve into personal agency and self-awareness, crafting your unique ethos and honing your ethical leadership skills. You will cultivate resilience and conquer self-imposed obstacles, equipping you with essential life skills to thrive in our complex, interconnected world while fostering responsible decision-making that benefits both you and the world at large.
In our rapidly evolving world, authentic self-leadership is a vital skill. It involves maintaining personal integrity, making well-informed decisions, and navigating the intricacies of our interconnected global environment. Throughout this course, you will explore personal agency and self-awareness, all while refining your ethical leadership abilities.
During this summer course, you will connect with like-minded individuals and learn how to relate yourself to the world around you, recognizing the profound interconnectivity that defines our modern existence. We will dive into the shift from an ego to an eco-mindset in self-leadership which emphasizes considering not just personal gains (ego) but also the well-being of the broader environment and community (eco), fostering responsible decision-making and leadership in a globally connected landscape.
The program kicks off with an exploration of personal agency, where you will create your own legacy. You will define the elements of a personal ethos, gaining insights into leading a values-based life and making ethical decisions. In a world characterized by interconnectivity and complexity, you will learn how to maintain authenticity while fostering responsible decision-making.
Building resilience is a vital aspect of this course. You will gain insight into your internal saboteurs and construct a Resilience Toolkit to fortify your ability to navigate change and adversity with grace.
Effective communication is a cornerstone of authentic self-leadership. You'll discover how to connect with like-minded individuals who share your goals and learn to communicate your message effectively, inspiring and mobilizing those around you.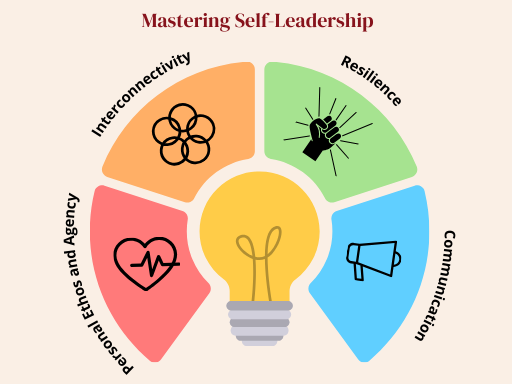 To conclude, you will set your course for the future by defining short-term and long-term goals. You will identify actionable steps to guide your journey toward a thriving future in our rapidly changing world.
This course is the final part of a trilogy, which includes "Part 1: The Science of Fulfillment" and "Part 2: Unlock Your Dream Career". While you have the option to take each part independently and still benefit significantly, for a more comprehensive personal development journey, we recommend considering all three courses. Each course is valuable and transformative on its own, but together, they provide a more holistic and in-depth transformation.
Monday: Personal Agency
Create your own legacy

The power of self-awareness
Tuesday: Authentic Leadership in a Complex World
Living in a world of interconnectivity and complexity

Define the elements of a personal ethos and understand how to lead a values-based life.

Make ethical decisions and maintain authentic
Wednesday: Resilience and Mental Well-being in Times of Change
Gain insight into your internal saboteurs

Build a Resilience Toolkit
Thursday: Communicate your message effectively
Find like-minded who share your goals

Communicate your message effectively and full of inspiration
Friday: Setting goals
Set short-term and long-term goals.

Define actionable steps.
Class Schedule Mastering Self-Leadership.pdf
Course director
Inge Rozendal
Lecturers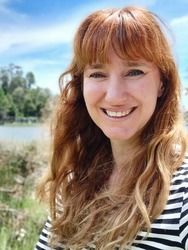 Meet Your Lecturer: Inge Rozendal
Your instructor for this course is Inge Rozendal, an innovative educator in the realm of purposeful learning. Inge's teaching approach is focused on fostering intrinsic motivation and helping students navigate a complex world by finding their direction from within.
Inge is a living example of shaping one's own life. She has a deep passion for education and a keen interest in exploring different cultures. Her journey has taken her from being a digital nomad traveling the world with her husband and children to living in Thailand for three years, and now residing in India.
Inge is an out-of-the-box thinker who emphasizes solutions over problems. She draws inspiration from scientific knowledge, nature, and her diverse cultural experiences. You'll find her teaching style refreshingly practical and oriented towards real-world learning.
Target audience
The programme is open to students from all disciplines. This course will be limited to a maximum of 22 participants to guarantee that each attendee receives sufficient individualized attention and support.
Aim of the course
The aim of this course is to empower you with the skills and mindset of authentic self-leadership, which entails prioritizing personal integrity, informed decision-making, and navigating the complexities of an interconnected world, fostering responsible decision-making and leadership.
Study load
There is a daily (Mon-Fri) online workshop from 9 AM to 12 PM CET, providing an interactive learning experience.
After these sessions, you'll have the flexibility to choose from various assignments, co-creating your own learning journey in collaboration with the lecturer. During the afternoon, feedback opportunities are available to keep your individual progress on track.
Plan for a study load of approximately 6-8 hours per day, covering both the in-class online workshops and your independent study time.
Costs
Extra information about the fee
This is an online course.
Contact details
Recommended combinations
Registration
Application deadline:
Registration deadline
20 July 2024