Period
12 July 2021
-
16 July 2021

The Global Surgery & Obstetrics - Gynaecology summer course provides a unique overview of the topics Global Surgery, Gynaecology and Maternal care, with an emphasis on essential surgical care from a worldwide perspective. In one week time, a great variety of topics will be discussed in interactive lectures, case study discussions and small working group with experts in the field. The collaboration of both speakers and participants from all over the globe, provides the unique opportunity to connect and learn from different backgrounds and perspectives.
After successful previous editions of the Global Surgery summer school and the Reproductive and Maternal Health summer school, both courses will join together and return in 2021 as the Global Surgery and Obstetrics - Gynaecology summer school. This online course will provide a unique overview of the topics Global Surgery, Gynaecology and Maternal care, with an emphasis on essential surgical care in a worldwide perspective. A main topic will be research in the field and how to collect data in Low and Middle Income countries (LMICs), in which you will be encouraged to share your own input. A new subject this year will be global surgical and gynaecological oncology. During the week there will be both theoretical and scientific lectures as experience based stories from experts in the field. The plenary sessions will provide the unique opportunity to discuss topics from many different backgrounds and perspectives, whiles the small group assignments will provide in-depth discussions and the opportunity to connect with other participants. During the week you'll be working together on group assignments that will be presented on Friday.
This course is a collaboration of
!Research contest!
Join our contest by handing in your own research proposal! The best research proposal will win free participation in the Global Surgery and Obstetrics-Gynaecology course of Utrecht Summerschool and €500 euro to spend on your research project or travel expenses. For further details, please don't hesitate to contact us at: globalsurgery@umcutrecht.nl or zitaprust@gmail.com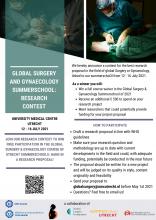 Download the day-to-day programme (PDF)
Course director
Prof. dr. Kitty Bloemenkamp and Prof. dr. I.H.M. Borel Rinkes
Lecturers
Representatives of the Netherlands Society for International Surgery (NSIS), Global Surgery Amsterdam, the working party of safe motherhood and many others with experience in the field, including international partners. The full list of lectures will be available in spring 2021.
Target audience
Surgical and Gynaecological residents, clinical officers, residents in International Health and tropical medicine, midwives, health researchers and policy makers with an interest in surgery and women's health. But also surgeons, gynaecologist and medical doctors with an interest in surgery / gynaecology are most welcome.
Master's level students (Medical/global health/public health/biomedicaL sciences/midwifery) are welcome to join this course too, but are expected to have worked/interned in a low resource setting.
Aim of the course
At the end of this course, participants will be able to:
Discuss key challenges in surgery and maternal health globally
Discuss the main features of the 4G alliance: Surgical, Obstetric, Trauma and Anaesthesia care.
Provide a comprehensive overview of strategies to improve surgical care and maternal health outcomes
Discuss the role of the Sustainable Development Goals, social determinants, gender dynamics, human rights and policy to improve reproductive and maternal health outcomes
Collaborate effectively within international group of participants and faculty.
Study load
Costs
Included:
Fee covers
Course + course materials
Extra information about the fee
*Participants from high-income countries: 
250 euro
400 euro for Consultants/Specialists
100 euro for one-day participation
**Participants from low- or middle-income countries
75 euro
40 euro for one-day participation 
**LMIC as defined by the World Bank. Please note: participants who join through the KA107 grant, pay the full fee.
Application
Extra application information
Please let us know on your application
(1) Would you like to attend the Surgery or Gyn/Obs track? 
(2) What is your current Job/Occupation?
(3) Are you applying to attend for the whole week? 
(4) Is the discount applicable for you (are your from a low-or middle income country?) 

For this course you are required to upload the following documents when applying:
Motivation Letter
Additional Application Form
More information
Registration
Application deadline:
Registration deadline
15 June 2021