Organising institution
Utrecht University - Faculty of Humanities
Period
21 August 2023
-
25 August 2023
Course fee (excl. housing)

*** UPDATE 16-04: Tentative schedule published (see below). Day-to-day program will follow in May. ***   
With the impending climate crisis and its short-term repercussions becoming more 'tangible' every year, popular media and especially games are increasingly moving into the center of attention. Whether these so-called 'ecogames' can provide new spaces to experiment with alternative forms of sustainable practices and communal organization, or simply reproduce ecomodernist fantasies, both digital and analogue games as well as the player cultures emerging around them are tuned in to many of the pressing environmental concerns we face today.
The summer course builds on and contributes to a growing body of scholarship that explores this phenomenon, and aims to situate it within the broader field of environmental humanities as well as, more specifically, green media studies, to complement existing research traditions that focus e.g. on environmental cinema, documentaries, or television. For that purpose, it brings together a diverse group of European ecogame researchers from universities in Warsaw (Poland), Manchester (UK), Cologne (Germany), Aalborg/Copenhagen (Denmark), and Utrecht (Netherlands). 
We explore key concepts and methodologies derived from existing ecogames research, combining the expertise of lecturers working at Utrecht University – both at the Center for Games and Play and the Copernicus Institute for Sustainable Development – with guest lecturers from our partner institutions. Participants will analyze representations of ecological and/or environmental transformations in games, employ creative metagaming practices to enrich climate communication/education, and critically engage with the multifaceted role (and ecological impact) of the digital and analogue games industries in the process.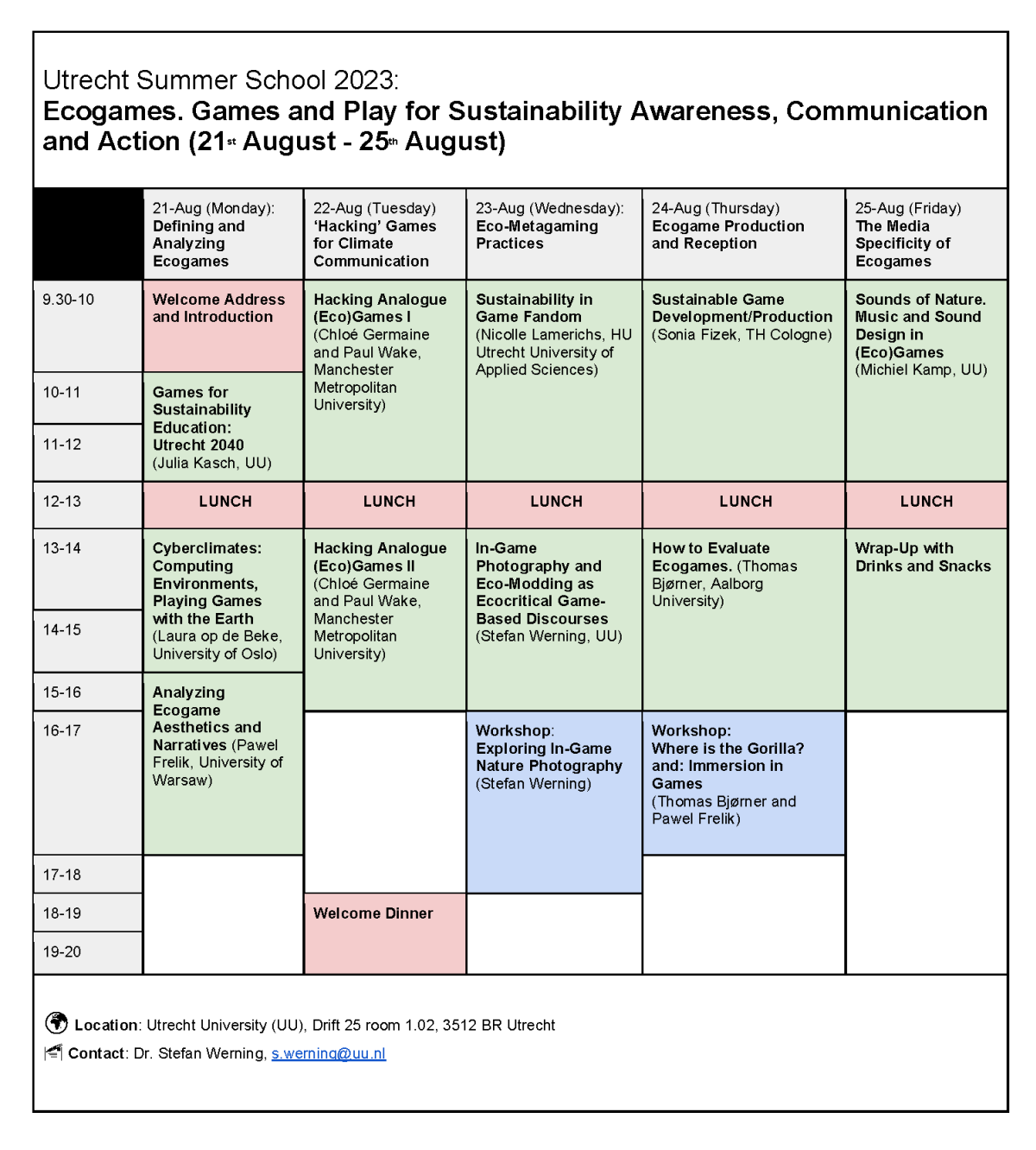 Course director
Dr. Stefan Werning
Target audience
The core audience of this course are students on Master/Research Master level, primarily in the fields of media and culture studies as well as sustainability studies (other disciplinary perspectives are of course very welcome); the course is also highly suitable for PhD candidates with a dissertation project related to sustainability and/or media, since we embed ecogames in a broader media-comparative framework and the program demonstrates various conceptual as well as methodological frameworks to approach it.
Moreover, the course addresses practitioners in various societal sectors (education, policy, NGOs, PR etc.) working on issues related to sustainability and resilient communities, who are interested in learning about how games and gaming can support their professional practices and goals. 
Study load
On each of the five days we will organise 2-3 interconnected core workshops that relate to the theme of the day, subdivided into plenary and working group sessions. This will be accompanied by supplementary formats such as practice-oriented tutorials and optional social activities. For most workshops, you are expected to read one preparatory texts; some also involve the use of digital tools, yet do not require any previous knowledge or technical background.
Costs
Included:
Fee covers
Course + course materials + lunch
Application

For this course you are required to upload the following documents when applying:
Contact details
Dr. Stefan Werning | Associate Professor for New Media and Game Studies 
Faculty of Humanities | Utrecht University | Muntstraat 2A | Room T2.13A | NL-3512 EV Utrecht
E: S.werning@uu.nl | T: +31 30 253 9729 | +49 1573 785 7271 
Registration
Application deadline:
Registration deadline
01 August 2023