Period
16 August 2021
-
20 August 2021

This summer course provides a multidisciplinary perspective on games and play in contemporary culture, combining perspectives from various disciplines within the humanities, social sciences and computer sciences. It addresses the challenges but also the transformative potential of both 'applied' and entertainment games, and provides participants with a holistic perspective including analysis, design and validation. By combining aspects of theory and practice, the course enables participants to better understand and meaningfully implement the potential of games and play within current socio-cultural contexts.
The tentative program can be found below.
PLEASE NOTE:  In light of the ongoing Covid-19 restrictions, the summer course is conducted as an online-only event via MS Teams; due to the lower administrative costs, this means that the admission fee is significantly lower as well. 
The program comprises workshops by senior researchers from the Center for Game Research (Utrecht University/UU), the Departments for "Media and Culture Studies" and "Information and Computing Sciences" (UU), the Copernicus Institute of Sustainable Development (UU), Palacký University Olomouc and Ruhr-Universität Bochum. Each day is dedicated to a different angle, starting with game analysis, moving on to games for sustainability and environmental communication, games for learning, scenario-planning games and finally interactive narrative design.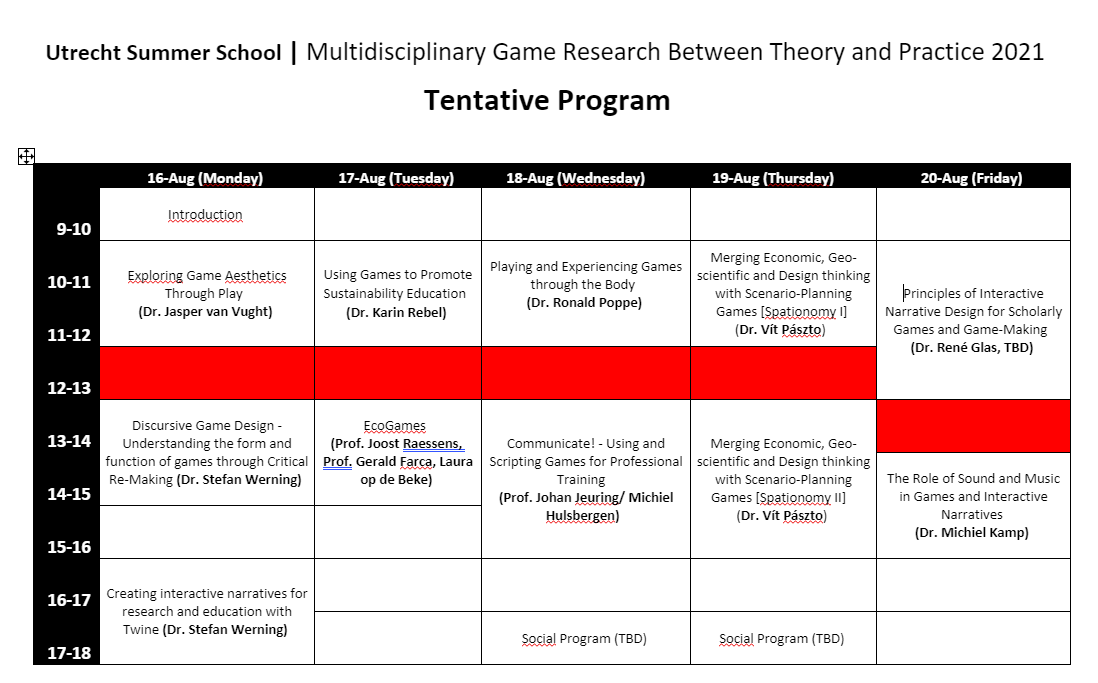 Course director
Dr. Stefan Werning
Target audience
The course is aimed at students (from MA/MSc students to PhD candidates) as well as members of private and public sector institutions (companies, NGOs etc.) that are either a) already utilising games and other playful applications, or b) aim to better understand how and when to work with them in academic or professional contexts. It offers participants an innovative platform, combining theoretical and practical approaches to develop a multidisciplinary understanding of games as technology (both digital and analogue), a form of cultural expression, and a social phenomenon.
Study load
On each of the five days we will organise two interconnected core workshops that relate to the theme of the day, subdivided into plenary and breakout sessions. This will be accompanied by supplementary formats such as practice-oriented tutorials and social activities. For most workshops, you are expected to read one or more preparatory texts; some also involve the use of digital tools, yet do not require any previous knowledge or technical background.
Costs
Included:
Fee covers
Course + course materials
More information
Dr. Stefan Werning | E: S.Werning@uu.nl | T: +31 30 253 9729
Address: Muntstraat 2-2a, Room T2.13A, 3512 EV Utrecht
Registration
Application deadline:
Registration deadline
06 August 2021