Organising institution
HKU University of the Arts Utrecht
Period
02 February 2021
-
09 March 2021
Course fee (excl. housing)

The International Rhythm Course Level 2 is a six week online program, meeting once a week, to solidify the fundamental expressive qualities of rhythm and explore the rich world of rhythmic complexities. The course is led by composer/flutist Ned McGowan (Assistant Professor of Advanced Rhythm and Pulse, and Composition at the Utrecht Conservatory), the eminent Carnatic violinist Dr. Mysore Manjunath, renowned percussionist B.C. Manjunath, and vocalist Kristina Fuchs (main teacher voice Antwerp Conservatory).
** This website is still in development. If you cannot sign up, send a message to ned.mcgowan@hku.nl so I can include you on the list. **
The IRC Level 2 is open for all students who have taken an IRC Level 1 or participated in the Summer School.
The Carnatic system of rhythm with its practical approach to complexities, forms the International Rhythm Course's (IRC) basic method for both a foundation and a structured exploration of rhythm in music. The IRC teaches the traditional approach to rhythm from the Carnatic perspective and places it both theoretically and practically next to Western methods. The rhythmical approach and pieces of B.C. Manjunath take a prominent role in the course materials
The goal of the class is twofold: first to continue where Level 1 left off with the Carnatic exercises and pieces, exploring further concepts and rhythmical structures. Second, to broaden the participant's knowledge and creativity of how the material can be put into practice. This will be done by analysis of Carnatic compositions and Western music that puts the Carnatic approach into practice. Further, assignments will be given for the students to create their own music with the material.
As in IRC Level 1, the course will explore a limited number of topics in detail. These topics will be learned through the methods of the different teachers and rhythmic exercises and pieces will be taught.
---
The online experience consists of the teachers demonstrating and explaining pieces, answering questions and participating in discussions. Students can sing or play along at home with the teacher's demonstration.
The format of the classes will be a combination of teaching and coaching methods woven together in each session. All classes will be recorded for future reference of the participants.
Participants are given the opportunity (but not required) to share their own videos of the assignments, which will be collected on a class web page with links to the videos of the lessons.
---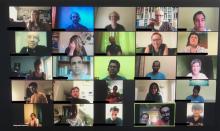 The IRC is intense and requires some practice each day outside of the online classes.
Schedule
The classes will take place on Tuesdays at the following times (CET):
16:15 - 17:30 and 17:45 - 19:00
The class dates are:
February 2, 9, 16, 23
March 2, 9
For more information write to Ned McGowan: ned.mcgowan@hku.nl
For comparison, here are some times in other time zones of the teaching lesson times:
California: 7:15 - 10:00
New York / Boston: 10:15 - 13:00
UK: 15:15 - 16:00
Western Europe: 16:15 - 19:00
Turkey: 17:15 - 20:00
Iran: 18:15 - 21:00
Madagascar: 18:15 - 21:00 
India: 20:45 - 23:30
---
Links
IRC: BC and Ned (pre-corona)
B.C. Manjunath:
Dr. Mysore Manjunath:
Ned McGowan:
Kristina Fuchs:
Group Lesson: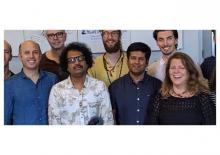 Course director
Ned McGowan
Lecturers
Ned McGowan, Dr. Mysore Manjunath and B.C. Manjunath
Target audience
The Course is designed for professionals, college-level students, and experienced amateurs. Performers of all instruments and composers are welcome regardless of style (i.e. Classical, improvised or non-Western musics). Existing ensembles and bands are welcome to apply as a group, as well as other rhythmical art forms (dance, rap, etc...) . If there are any doubts or questions about qualifications, just write for more information.
---
Quotes from previous students of the IRC:
"I thought it was great to have a good mix of "essential" lessons in a seminar fashion and "practice" sessions to deepen understanding of the material and address questions/issues."
"In my case I think that you are always learning by seeing your own practice and that of others. There were very creative approaches that trigger my new ideas."
"I really appreciate the combination of theory and hands on practical exercises. Also using western + carnatic notation was great, cross-training the brain to feel+see things from different angles."
"I think that in this type of course, with different assistants with such diverse musical practices, the content was well balanced. In my opinion, the different contents have multiple degrees of application and practice. From the simplest you can come up with very surprising and enriching practices. Each of the participants will have balanced the quantitative and qualitative aspects of the content presented."
"It was left up to me to decide what and how to do things regarding the assignments, and that was perfect for me.  As it wasn't a graded course, I could relax into it and soak up what I was able to with no pressure.  Even with my advanced musical training, I was challenged continually!  Excellent!"
"My favourite thing about the course and how you managed to structure it was that it functioned effectively at whatever level the student was at. There were times where I felt "ah! I know this stuff and I'm comfortable with it" and there were simultaneously times where I felt "whoa! that's awesome! I understand it, but it'll take me few months of practice to build myself to that level"
"The rhythm course is very practical for me. I'm writing a new piece and I put many clear elements in it from this course."
"I haven't been a student since I left school but this course was so amazing to be a part of. All the teachers were fantastic, clear and precise with time for everyone. For me it was invaluable and an honour to have been a temporary student from the very best in the Carnatic world."
Aim of the course
Solidify the fundamental expressive qualities of rhythm and explore the rich world of rhythmic complexities in order to be applied to your own music.
All of the current IRC courses
The IRC is a series of courses in multiple levels.
IRC Level 1 - online course with the basic material to get started on the Carnatic approach and its Western analogy
IRC Level 2 - online course to take the Level 1 materials to the next level, and explore Carnatic approaches to music in the West
IRC Utrecht - the opportunity for online and new students to come together, continue the studies and make music together. July, 2021, Covid permitting
IRC India - a musical and cultural trip to South India for continued rhythmical and musical study at the source of this great music.
Costs
Included:
Fee covers
Course + course materials
Application
Extra application information
For your application, please indicate when you took the IRC course before.
More information
Registration
Application deadline:
Registration deadline
19 January 2021